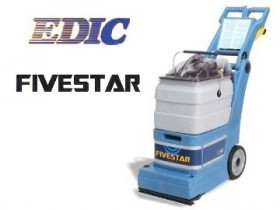 All in one cleaner that's
easy to load and unload
    into most vehicles 

Self-adjusting, self-leveling brush and vacuum shoe for easy cleaning of all carpet lengths, plus longer brush life.
Stair/upholstery kit attaches to back of unit for confined area cleaning.

Handle adjusts to operator height and folds down for easy storage and transportation.
Patented lift-off bucket with bladder makes filling and emptying incredibly easy.
See-through recovery dome.
Side extension for cleaning right to baseboards.
Upright-mounted motor and intercooler system combine for long-lasting operation.
Remove two screws and the machine opens like a clamshell for fast service.
Uses Deltaquip's  own Xtract-a-way shampoo formulated exclusively for Rental Stores.
| | |
| --- | --- |
| Model/Cat. Number: | Five Star/401TR |
| Capacity/Power: | 3 US Gallon Polyethylene tank (11.37 litres) / 115v, 12Amp draw |
| Vacuum Motor Specs: | 2 horsepower / 112 C.F.M. / 107″ water lift |
| Pump hp/Pressure: | 1/6hp / 50 psi |
| Cleaning Width: | 12" |
| Brush Motor/Speed: | 1/6 hp / 2500 rpm |
| Brush Type: | Chevron design, 4 rows, Stainless steel sealed ball bearings |
| Wheels: | 7″ non-marking |
| Power Cord: | 25 feet (7.7 meters) |
| Dimensions (LxWxH): | 25 x 13 x 26¾" (63½ x 33 x 68cm) |
| Shipping Dimensions: | 26½ x 15½ x 28¼" (67½ x 39½ x 72cm) |
| Weight: | 40 lbs (18 Kg) |
| Shipping Weight: | 53 lbs (24 Kg) |
| Warranty: | 2 years parts and labour, lifetime on housing |