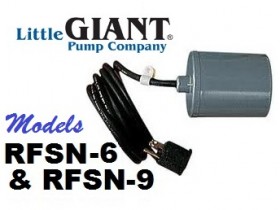 Attaches to most any pump
           up to ½HP

Allows manual pumps up to ½HP (or 13 Amps) to operate automatically.
Designed to extend pump life and prevent pumps from overheating when running dry.
Suitable for applications where pumps aren't manned or monitored.
Most commonly used with our 6 and 8 series models.
Heavy duty contacts.
Includes piggyback receptacle…plug into outlet and plug pump into it.
Can disconnect at any time, to enable manual pump operation.
Can be mounted away from  pump for more versatility.
Epoxy sealed switch and cord conductors.
Adjustable pumping range.
| | |
| --- | --- |
| Model/Catalogue Number: | RFSN-6 (599118);  RFSN-9 (599117) |
| Electrical Requirements: | Maximum 115 Volt, 13 Ampere, ½ horsepower |
| On Level: | Maximum pumping height of your pump |
| Off Level: | Recommended not lower than 2 " above pump base |
| Maximum Liquid Temp: | 140°F (60°C) |
| Power Cord: | RFSN-6 – 10′ (3m); RFSN-9 – 15′ (4½m) |
| Dimensions (Dia x H): | 3.04 x 3.56″ (77 x 91mm) |
| Shipping Dimensions: | 4½ x 8 x 6″ (11½ x 20 x 15cm) |
| Weight: | 1 lb 8oz (650g) |
| Shipping Weight: | 1 lb 12 oz (800g) |
| Warranty: | 1 year from Deltaquip's invoice date |