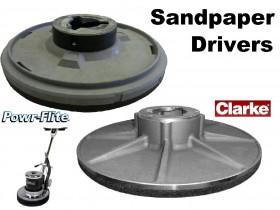 Attach sanding discs to these plates to remove
    adhesives, drywall mud, paint and more
         from wood or concrete surfaces.
These sanding plates are one of the most widely used methods for removal of foreign materials.
Will remove old floor finish, glue and more from wood floors.
Choice of three sizes (15, 16 and 17″) fit most 175 RPM 1½HP floor machines including Powr Flite, Clarke and others.
This is a dry removal system whereby the sandpaper reduces floor accumulations to dry, sweepable dust.
No added chemical waste to dispose of.
Can sand over bare wood (such as decks), to level, prior to coating installation.
Range of grits from 16 through 120 available.
Respiratory systems strongly advised.
| | |
| --- | --- |
| Plate Diameter/Part Numbers: | For Powr-Flite: 15″ – SDA15; 16″ – SDA16; 17″ – SDA17 |
|   | For Clarke: 15″ – 450214; 16″ – 460215 |
| Sandpaper Used: | 15, 16 or 17″ disc with 2″ centre hole |
| Composition: | Powr-Flite – Plastic backing plate with felt; Clarke – aluminum plate with felt |
| Sandpaper Grits: | 16, 20, 24, 30, 36, 40, 50, 60, 80, 100 and 120 |
| Clutch Plate: | Standard, fits most rotary machines. Turn counterclockwise to attach. |
| Ship Dimensions (LxWxH): | 16×16″, 17×17″ or 18×18″, all 4″ height |
| Weight: | Powr-Flite-6¾ lbs (3Kg); Clarke-8½ lbs (4Kg) |
| Shipping Weight: | Powr-Flite-7¾ lbs (3½Kg); Clarke-9½ lbs (4½Kg) |
| Warranty: | 1 year |
These two methods of debris removal are often compared to one another for use on concrete as well as wood floors. For starters, sanding discs are typically manufactured for wood surfaces. Concrete prematurely wears the abrasive on discs, to the point they must be replaced too frequently. Should you encounter material build-up on your sandpaper, try using the EZ Scrape but only if you're removing material from concrete. Quite often, sandpaper must be discarded long before its usable lifespan not because of wear, but due to 'caking' of material on the grit surface. The EZ Scrape system essentially 'shreds' or 'grates' working surfaces. During the process, material is thrown aside rather than kept under the machine. These accessories, coupled with a 175 RPM floor machine, can be dangerous if used without proper supervision and care. As with any similar system, the concrete or wood surface should be relatively smooth and any objects such as rebar, bolts, pins, etc., should be ground down to surface level or removed altogether. Not recommended for vinyl tile removal.