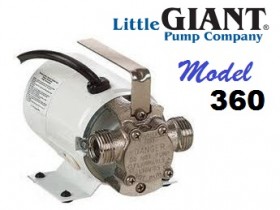 For liquid transfer, such as boats and basins

Most commonly used to drain boats, tubs, waterbeds and other small contained areas.
Pumps solutions non-harmful to rubber.
Non-submersible nickel plated brass pump body.
Stainless steel cam, nitrile compounded rubber impeller.
Commercial, industrial or residential use, where lesser amounts of liquid must be transferred.
Rugged stainless steel handle for easy portability.
Self priming once impeller is wet.
Lifts liquids from 7 feet below.
Dual threaded ports each with both ¾" (19mm) male garden hose thread & 3/8″ (9½mm)FNPT.
Rubber feet maintain stability when in operation.
Model Number (Catalogue #):        360 (555502)
Capacity (Imp. GPH / l/hr):               250 @1' head  (1363 l@.3m)
Intake/Outlet Ports:                          ¾" male garden hose integrated with 3/8″ (9½mm)FNPT
Shut-Off (max pump height):         25 ft (7.6m)
Pump Output Pressure:                  20.9 p.s.i.                                                                                                                               Maximum Liquid Temperature:     140°F (60°C)
Motor:                                                   1/10HP, 115V, 1.6A, 180 Watt, CSA approved
Motor Speed:                                      5,000 R.P.M.                                                                                                                           Cord Length:                                       6′ (1.8m)
Warranty:                                            1 year from Deltaquip's invoice date
Dimensions (L x W x H):                  6.62 x 3 x 4½" (17 x 7½ x 11½cm)
Shipping Dimensions:                      10 x 4½ x 4½" (25½ x 11½ x 11½cm)
Weight:                                                 3.6 lbs (1.6Kg)
Shipping Weight:                               4 lbs (1.8Kg)