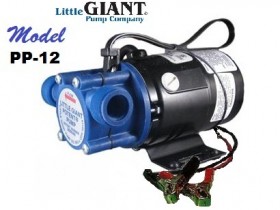 12 Volt DC power for boats and R.V.'s

Most commonly used in R.V.'s and boats, to drain tubs, and other small contained areas.
Pumps solutions non-harmful to rubber.
Non-submersible polypropylene pump body.
Polypropylene cam, Buna-N® compounded rubber impeller.
Commercial, industrial or residential use, where lesser amounts of liquid must be transferred.
Battery cable and clips included.
Self priming once impeller is wet.
Lifts liquids from 7 feet below.
Dual threaded ports each with both ¾" (19mm) male garden hose thread & 3/8″ (9½mm)FNPT.
Rubber feet maintain stability when in operation.
Designed to run intermittently; 45 min. on, 15 min. off.
Model Number (Catalogue #):        PP-12 (555200)
Capacity (Imp. GPH / l/hr):               187 @1' head  (851 l@.3m)
Intake/Outlet Ports:                          ¾" male garden hose integrated with 3/8″ (9½mm)FNPT
Shut-Off (max pump height):         25 ft (7.6m)
Pump Output Pressure:                  20.9 p.s.i.                                                                                                                               Maximum Liquid Temperature:     120°F (49°C)
Motor:                                                   1/10HP, 12VDC, 8.9A, 107 Watt
Motor Speed:                                      5,000 R.P.M.                                                                                                                           Cord Length:                                       6′ (1.8m) battery wires
Warranty:                                            1 year from Deltaquip's invoice date
Dimensions (L x W x H):                  6.1 x 4 x 3.1″ (15½ x 10 x 8cm)
Shipping Dimensions:                      9¾ x 5¼ x 5-1/8″ (25 x 13½ x 13cm)
Weight:                                                 5.1 lbs (2.3Kg)
Shipping Weight:                               5½ lbs (2.5Kg)