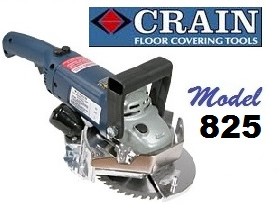 Comes with carbide-tipped blade, carrying case and blade wrench.
Designed to undercut tile, stone, masonry and wood.
Has dust control port for attaching vacuum hose.
Adjustable height and depth gauges.
Retractable stabilizer provides a smooth, solid feel under load.
Available diamond (#822) blade.
Supplies with carbide toothed blade (# 821) and masonry blade (#805).
Can undercut doors in place.
Powerful low R.P.M. motor.
| | |
| --- | --- |
| Motor: | 120 Volt, 8.15 Amp |
| Blade Size/type: | 6½" /carbide tipped, diamond or masonry |
| Blade Speed: | 4,800 RPM without load |
| Cutting Height: | From flush to 1¼" (32mm) |
| Maximum Cutting Depth: | 1¾" (46mm) |
| Weight: | 16 lbs (7.27 Kg) |
| Ship weight: | 18 lbs (8¼ Kg) |