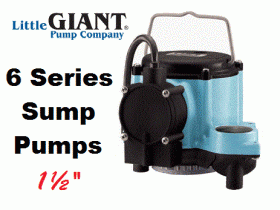 The 6 Series pumps handle over 38 Imperial gallons per minute…That's over 2300 gallons per hour! 
Multiple switch options for automatic operation.
1¼" and ¾" garden hose adapters available.
Fully sealed, serviceable motor designed for continuous duty.
Epoxy coated cast aluminum housing with nylon impeller.
Removable inlet screen for easy cleaning.
Upper and lower sintered sleeve bearings.
| | |
| --- | --- |
| Model/Catalogue Number: | 6-CIA (506158) Automatic, integral diaphragm switch                           6-CIA-RFS (506171) Automatic, piggyback mechanical float switch                      6-CIM-R (506271) Manual |
| Motor Specs: | 1/3hp / 115V sealed, CSA approved |
| Capacity (GPH-litres/hr): | 2300@1' head (10,440 l@.3m) or 660@15' ht (3000 l@4½m) |
| Discharge: | 1½"FNPT (38mm) |
| Shut Off (max head): | 18'(5.5m) |
| On Level:  | 6-CIA – 7-10″ (18-25½cm); 6-CIA-RFS – 9-11″ (23-28cm); 6-CIM-R – 1″ (2½cm) |
| Off Level:    | 6-CIA – 1-4″ (2½-10.2cm); 6-CIA-RFS – 3-5″ (7½-12.7cm); 6-CIM-R – 1″ (2½cm) |
| Pump Pressure: | 11.4 p.s.i. |
| Maximum Liquid Temp: | 140°F (60°C) |
| Power Cord: | 10′ (25′ can be special ordered) |
| Dimensions (LxWxH): | 8½ x 7 x 8″ (21½ x 18 x 20½cm) |
| Shipping Dimensions: | 10½ x 10½ x 9½" (27 x 27 x 24cm) |
| Weight: | 6-CIA – 7.8 lbs (3½Kg); 6-CIA-RFS – 7 lbs (3.2Kg); 6-CIM-R – 7.4 lbs (3.4Kg) |
| Shipping Weight: | 6-CIA – 8.4 lbs (3.8Kg); 6-CIA-RFS – 7½ lbs (3.4Kg); 6-CIM-R – 8 lbs (3.6Kg) |
| Warranty: | 1 year from Deltaquip's invoice date |