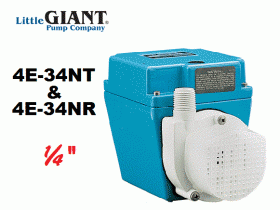 For water transfer,
  water displays
and machine tool
      coolants 
Most commonly used with water displays air conditioners and machine tool coolants.
Handles a variety of liquids.
Oil-filled motor housing with a Viton® shaft seal, designed for continuous duty.
Commercial, industrial or residential use, where lesser amounts of liquid must be transferred or recirculated.
Removable polypropylene screen for easy cleaning.
Epoxy coated cast aluminum housing and cover.
Nylon volute and impeller.
Model 4E-34NR has a heavy duty motor.
| | |
| --- | --- |
| Model/Catalogue Number: | 4E-34NT (504186)   4E-34NR (504203) |
| Motor Specs: | 1/12HP, 115V, 3½ Amp, 210 Watt, Thermally protected, CSA approved |
| Capacity (GPH-litres/hr): | 4E-34NT – 590 @1' head (2688 l@.3m)   4E-34NR – 675 @ 1′ head (3066 l@.3m) |
| Intake: | ¾" (19mm)FNPT  |
| Discharge: | ¼"MNPT (6mm) |
| Shut Off (max head): | 4E-34NT – 23.1 ft (7m)  4E-34NR – 24½' (7.5m) |
| Pump Pressure: | 4E-34NT – 10 p.s.i   4E-34NR – 10.6 p.s.i. |
| Maximum Liquid Temp: | 120°F (49°C) |
| Power Cord: | 4E-34NT – 10′ (3m)    4E-34NR – 6′ (1.8m) |
| Dimensions (LxWxH): | 7 x 4½ x 5½" (18 x 11½ x 14cm) |
| Shipping Dimensions: | 8¾ x 6½ x 6½" (22¼ x 16½ x 16½cm) |
| Weight: | 8½ lbs (.4Kg) |
| Shipping Weight: | 8¾ lbs (4Kg) |
| Warranty: | 1 year from Deltaquip's invoice date |