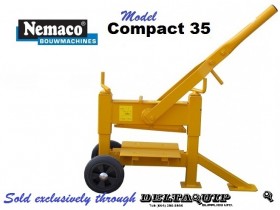 The Revo Model Compact 35 handles most paving stones up to 4¾" or 12 cm.
Able to cut paving stones, bricks, slabs or curb stones
Breaks material up to 4¾" (12cm) thick and 13¾" (35cm) in length
Pivoting 10 x 10½" cutting bed allows for slightly angled cuts to ensure best fit of stonework
Long sturdy handle allows for maximum torque and easy cuts
Three edged cutting blades (on both top and bottom) allow for rotation for maximum life
Height adjustable down to less than ½" (1cm)
Rugged 7″ transport wheels
Little or no maintenance required
Click here for a better look
Model Number:                                 Compact 35
Maximum Cutting Height:              4¾" (12 cm)
Maximum Cutting Length:             13¾" (35 cm)
Shipping Dimensions:                    42″ (107 cm) long x 13½" (34½ cm) wide x 18″ (46 cm) high
Weight:                                               94½ lbs. (43 Kg)
Shipped Uncrated:                           94½ lbs. (43 Kg.)

The only part readily available for the Compact 35 is the cutting blade, which seldom needs replacing. For illustration and part number, please click here.