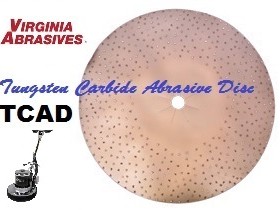 The tungsten carbide abrasive disc fits standard 175 R.P.M.16″ floor machines. Using the same tungsten-carbide based materials as the EZ Scrape, one can quickly and easily remove multi-purpose adhesives, drywall mud, paint, epoxy, carpet padding and more, from smooth concrete surfaces.
Lowest cost for tungsten carbide based removal system
One of the most efficient ways to remove a host of product remnants from smooth concrete surfaces.
Not recommended for removal of debris from wood floors.
About 140 – small sharp tungsten carbide 'teeth' are mounted onto a 16″ steel disc, which fits most 175 RPM 1½HP floor machines including Powr Flite, Clarke and others.
This is a removal system that can be used on both wet and dry surfaces.
No added chemical waste to dispose of.
In cases such as bitumen and paint removal, water may be applied in order to lower friction and avoid excessive heat build-up.
A disc lasts about 24 hours each side.

| | |
| --- | --- |
| Disc Size: | 16-1/8″ diameter, 1″ centre hole |
| Cutting Teeth: | Roughly 140 razor sharp electroplated carbide chunks. Click here for larger image |
| Life Expectancy: | 48 hours (Typically 24 hours per each of the two sides) |
| Mounting System: | Fits rubber backed sandpaper driver. |
| Ship Dimensions (LxWxH): | ¾" x 17¼" x 17¼" (20 x 44 x 44cm) |
| Weight: | 2 lbs (900 grams) |
| Shipping Weight: | 2¾ lbs (1¼Kg) |
Virginia Abrasives'  TCAD is often compared to sandpaper discs for material removal from concrete floors. For starters, sanding discs are typically manufactured for wood surfaces. Concrete prematurely wears the abrasive on discs, to the point where they must be replaced frequently. Another problem with sandpaper and screens is perhaps the biggest and most costly; material build-up. More often than not, sandpaper must be discarded long before its usable lifespan not because of wear, but due to 'caking' of material on the grit surface. The TCAD system essentially 'shreds' or 'grates' working surfaces. During the process, most of the material removed is thrown aside rather than kept under the machine. This accessory, coupled with a 175 RPM floor machine, can be dangerous if used without proper supervision and care. As with any similar system, the concrete surface should be smooth and any objects such as rebar, bolts, pins, etc., should be ground down to the concrete surface level or removed altogether. Not recommended for wood floors.