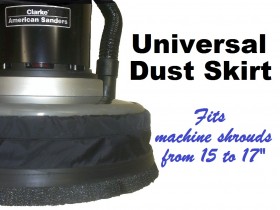 Our dust skirt fits most rotary machines equipped with or without dust control systems. The adjustable clamp allows quick and easy installation or removal. Even without connecting a vacuum, the skirt will effectively prevent debris scatter, reducing dust. Nylon bristles mate with the contours of the working area for added efficiency. Suitable for use anywhere dust and debris are issues.   
Adjustable metal inner ring clamps firmly to machine's bumper or directly to shroud
Soft nylon upper skirt allows brush skirt to 'float' on work surfaces
Semi-rigid rubber brush ring for stability
3″ vertical movement allows skirt to be used with wide range of machine accessories  
Helps prevent sanded materials from being thrown out from under your machine while reducing airborne particulate
Nylon bristles allow continuous air flow-through, while lightly agitating the work surface for optimum dust capture
Easily removable, yet may remain on machine during transport or storage, without causing damage

| | |
| --- | --- |
| Part Number: | USS17 |
| Fits Machine Sizes: | 15 through 17″ diameter |
| Machine Speed: | Typically 175 – 350 RPM |
| Skirt Movement: | Approximately 3″ vertical motion |
| Bristle Height: | Approximately 1″ (25mm) |
| Brush Circumference: | Approximately 57½" (146cm) |
| Dimensions: | 17″ (43cm) Diameter x 2″ (5cm) High |
| Shipping Dimensions: | 18″ x 18″ x 3″ (48 x 48 x 10cm) |
| Weight: | 13 oz. (Approximately 375 grams) |
| Shipping Weight: | Approx. 2 lbs (1Kg) |
| Warranty: | 90 day |
The ½" wide metal clamp typically fastens to the sanding machine's rubber shroud guard or bumper.
With your machine in its operating position, the clamp ring should be centered no more than 4″ (10cm) from the floor to allow proper brush contact on working surfaces.
Works best with rotary machines (also referred to as rotary sanders, floor maintainers, floor polishers, floor buffers or disc sanders) equipped with dust containment inner housings such as those found on Clarke's RS16dc and the Clarke American Sander 16dc.