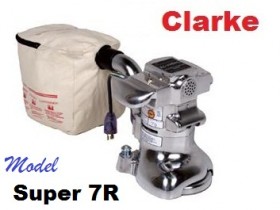 The Super 7R Edger is our most popular seller. This workhorse was engineered so operators can easily sand flush against baseboards and get into hard to reach areas with unsurpassed productivity. The exhaust port accepts standard vacuum hoses while still offering the option to use the cloth dust bag.

Powerful 1 Horsepower motor drives the pad at 2800 rpm
Polished cast aluminum housing provides durability and longevity
Precision balanced with ergonomic handles to reduce operator fatigue
Patented quick-release dust bag simplifies debris removal
Dust pipe rotates 210º which allows operation in tight spaces
Dust pipe accepts either 1½" or 2″ hoses
On-board light allows better vision in corners and closets
Full range of sanding discs available, from 16 to 120 grit
| | |
| --- | --- |
| Model Number: | 07125A (115 Volt)        07126A (230 Volt) |
| Motor Specs: | 1 H.P. Universal, 4 pole/12 Amp. DC, 60Hz, 1.3 Kw |
| Sanding Pad Speed: | 2800 RPM |
| Disc Size: | 7″ (18cm) Diameter with 7/8″ (2.2cm) centre hole |
| Wheels: | Metal Caster Type |
| Optional Urethane Wheels: | Available from Deltaquip (P/N 30666A) |
| Air Flow: | 140 CFM |
| Power Cord: | 25′ (7.62m) grey non-marking rubber |
| Dimensions (LxWxH): | 16″ (38cm) Long x 11″ (28cm) Wide x 12″ (30½cm) High |
| Shipping Dimensions: | 23½" (60cm) Long x 11″ (28cm) Wide x 17½" (44½cm) High |
| Weight: | 30 lbs. (14Kg) |
| Shipping Weight: | 46 lbs. (21Kg) |
| Warranty: | 1 year parts and labour |
So which edger is best suited for your Rental Fleet…the Super 7R or the SE7 Pro?  Not only do edgers remove floor finish in preparation for refinishing hardwood but they're also used to take down foreign materials such as paint, carpet glue and a host of other backings. Other tasks include leveling decks in preparation for coverings. To begin with, SE7+ and CE7+ edgers are better suited for more specific applications such as finer work around toe-kicks, hearths and hot water heating systems. The more robust Super 7R model excels when it comes to product removal from floors. So to summarize, the Super 7R is just slightly more ruggedly built than the SE7+ and CE7+ series models, which are finer tuned for more specific tasks as mentioned. Please contact us for more details as to which model will better fit your rental fleet.