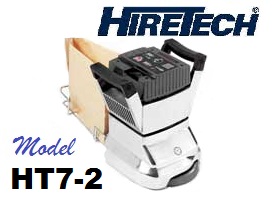 Hiretech's HT7-2
  is ergonomically designed
using soft rubber hand grips. 
Polished aluminum alloy housing
Powerful 1 Horsepower motor drives pad up to 2800 R.P.M.
Bias Off switch protects accidental start-ups

Dust bag support prevents bag wear from floor contact

Wide wheel casters minimize gouging

ABS disc guard rotates against base boards and skirting, preventing damage

Hardened steel alloy pinion and large diameter aluminum bronze drive gear
| | |
| --- | --- |
| Model Number: | 07006 (110 Volt) |
| Motor Specs: | 1 H.P. Universal, 4 pole/15 Amp. DC, 60Hz, 1.5 Kw |
| Sanding Pad Speed: | 2800 RPM |
| Disc Size: | 7″ dia. x 7/8″ centre hole (18 x 8mm) |
| Wheels: | Metal Caster Type |
| Power Switch: | Biased Off – always off unless depressed; lighted when depressed |
| Air Flow: | 140 CFM |
| Power Cord: | 23′ (7m) black non-marking |
| Dimensions (LxWxH): | 20″ (51cm) x 10¾" (27½cm) x 12¾" (32½cm) |
| Shipping Dimensions: | 15½" (39½cm) x 12½" (32½cm) x 13¾" (35cm) |
| Weight: | 36¼ lbs. (16½Kg) |
| Shipping Weight: | 39¾ lbs. (18Kg) |
| Warranty: | 2 years parts and labour |
So which edger is best suited for your Rental Fleet…the Hiretech HT7-2 or any of the Clarke models? Not only do edgers remove floor finish in preparation for refinishing hardwood but they're also rented to take down foreign materials such as paint, carpet glue and a host of other backings. Other tasks include leveling decks in preparation for coverings. To begin with, SE7+ and CE7+ edgers are better suited for more specific applications such as finer work around toe-kicks, hearths and hot water heating systems, due to their extended reach. The more robust Super 7R and HT7-2 models share similar motors and can withstand a substantial amount of user demands. So to summarize, the HT7-2 and Super 7R edgers are slightly more ruggedly built, while the SE7+ and CE7+ models offer more versatility. Please contact us for more details as to which model will better fit your rental fleet.