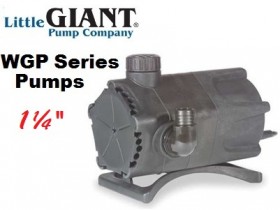 Submersible pumps for waterfalls and streams
Submersible pump with fully sealed motor and corrosion resistant housing, designed for continuous use.
Used primarily for waterfall and stream applications.
Includes 1¼" BSPP x 1″ barb elbow for 1″ i.d. tubing and a 1¼" MNPT discharge cap.
The WGP series pumps are oil-less.
Model Number (Catalogue #):        WGP-65-PW (566065); WGP-95-PW (566095)
Capacity (Imp. GPH / l/hr):               WGP-65 – 1,900@3 ft head (7,200 l@1m); 340@16 ft (1,300@5m)
                                                              WGP-95 – 3,600@3 ft head (13,630 l@1m); 670@23 ft (2,500@7m)                         Discharge:                                          2 x 1¼"Hose barb (32mm)
Shut-Off (max pump height):         WGP-65 – 20 ft (6.1m);  WGP-95 – 26½ ft (8.1m)
Suggested Pond Size:                     WGP-65 – 1,000 Imp. Gal (4,500 litres); WGP-95 – 2,000 Imp. Gal (9,100 litres) 
Motor:                                                  WGP-65 – 115Volt 60Hz, 2 Amp, 230 Watt, CSA approved
                                                              WGP-95 – 115Volt 60Hz,6.3 Amp, 700 Watt, CSA approved                                        Cord Length:                                      16′ (5m)
Warranty:                                            2 years from Deltaquip's invoice date
Dimensions (Diameter x H):           WGP-65 – 8½ x 7 x 9¾" (21½ x 18 x 25cm)
                                                               WGP-95 – 8½ x 8 x 11″ (21½ x 20½ x 28cm)                                                                    Shipping Dimensions:                      WGP-65 – 7 x 9 x 12″ (18 x 23 x 30½cm)
                                                               WGP-95 – 7 x 9 x 14″ (18 x 23 x 35½cm)                                                                         Weight:                                                 WGP-65 – 9.7 lbs (4.4Kg)
                                                               WGP-95 – 13½ lbs (6.2Kg)                                                                                                    Shipping Weight:                               WGP-65 – 10½ lbs(4.8Kg)                                                                                                                                                                     WGP-95 – 14½ lbs (6.6Kg)