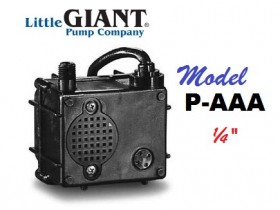 Most common tile saw pump.
Most commonly used with tile saws, pipe threading machines and welding.
Pumps soap solutions, plating solutions and fertilizers where materials are compatible.
Oil-filled motor housing with a nitrile radial lip seal on the motor shaft, designed for continuous duty.
Commercial, industrial or residential use, where lesser amounts of liquid must be transferred or recirculated.
Removable inlet screen for easy cleaning.
Model Number (Catalogue #):        P-AAA (523086)
Capacity (Imp. GPH / l/hr):               100 @1' head  (454 l@.3m)
Discharge:                                          ¼"MNPT (6mm)
Shut-Off (max pump height):         4.6 ft (1.4m)
Maximum Liquid Temperature:     120°F (49°C)
Pressure:                                            2 p.s.i
Motor:                                                  1/600HP, 115V, ½ Amp, 30 Watt, CSA approved
Cord Length:                                      10′ (3m)
Warranty:                                            1 year from Deltaquip's invoice date
Dimensions (L x W x H):                  3.9 x 3.9 x 3″ (10 x 10 x 7¾cm)
Shipping Dimensions:                      6¼ x 6¼ x 4-3/8″ (16 x 16 x 11cm)
Weight:                                                 2.68 lbs (1.2Kg)
Shipping Weight:                               2.94 lbs (1.33Kg)