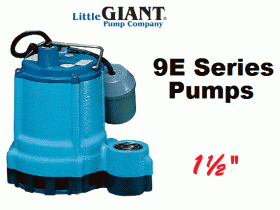 The 9E Series pumps handle up to 43 Imperial gallons per minute…2600 gallons per hour.
Choose between manual (9E-CIM) or switchable (9E-CIA-RFS) models.
1¼" adapters available.
Fully sealed, serviceable motor designed for continuous duty.
Epoxy coated cast aluminum housing with vortex nylon impeller.
Cast iron volute.
Solids handling up to ¾" (19mm).
Upper and lower sintered sleeve bearings.
Model (Catalogue #) and Type:    9E-CIM (509200) Manual; 9E-CIA-RFS (509300) Manual with float switch          Capacity (Imp. GPH / l/hr):             2850 @5' head  (12,960 l@1½m) or 800 @20' height  (3640 l@6m)           Discharge:                                       1½"FNPT (38mm)
On Level:                                           9E-CIM – Continuous; 9E-CIA-RFS – 9-14″ (23-35¾cm)                                                    Off Level:                                           9E-CIM – Continuous; 9E-CIA-RFS – 2-6″ (5-15¼cm)                                                Shut-Off (max pump height):        23'(7m)                                                                                                                      Maximum Liquid Temperature:   140°F (60°C)
Maximum Pump Pressure:           9.1 p.s.i.                                                                                                                                 Motor hp/volts:                                 4/10hp, 12.3Amp, 115V sealed, 1000 Watt, CSA approved                                           Cord Length:                                     15′ (4½m)
Warranty:                                           1 year from Deltaquip's invoice date
Dimensions (L x W x H):                 9½ x 7 x 9¼" (24 x 18 x 23cm)
Shipping Dimensions:                     12¾ x 10 x 11″ (32½ x 25½ x 28cm)
Weight:                                                9E-CIM – 26 lbs (11¾Kg); 9E-CIA-RFS – 27 lbs (12.3Kg)
Shipping Weight:                               9E-CIM – 27½ lbs (12½Kg); 9E-CIA-RFS – 28½ lbs (13Kg)