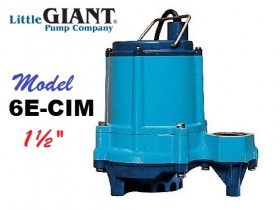 The 6E-CIM submersible pump is ideal for sumps and effluent
Handles tough, demanding tasks of effluent waste transfer materials up to ½" spherical.
Completely submersible.
Oil-filled motor housing for extended life and rapid heat dissipation.
Epoxy coated cast iron pump housing and volute help prevent rust and corrosion.
Mechanical shaft seal.
Rated for continuous duty.
Can be used with a float switch for automatic operation.
Thermal overload protection.
Model (Catalogue #) and Type:        6E-CIM (506710) Manual                                                                                                       Capacity (Imp. GPH / l/hr):                 2500 @5' head  (11,400 l@1.5m) or 1,350 @15' height  (6140 l@4½m)
Discharge:                                           1½"FNPT (38mm)
Shut-Off (max pump height):           20'(6.1m)                                                                                                                                Maximum Liquid Temperature:      140°F (60°C)
Motor:                                                   1/3hp/115V/10Amp/750Watt sealed, CSA approved
Cord Length:                                       10′ (25′ can be special ordered)
Pump Pressure:                                 8.7 P.S.I.                                                                                                                           Warranty:                                             1 year from Deltaquip's invoice date
Dimensions (L x W x H):                   9.9 x 8.8 x 8.5″ (25½ x 22½ x 21½cm)
Shipping Dimensions:                       11 x 9½ x 12¾" (28 x 24 x 32½cm)
Weight:                                                  23 lbs (10.3Kg)
Shipping Weight:                                 25½ lbs (11½Kg)