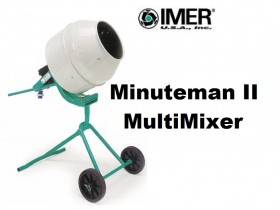 Since 1988, Deltaquip Supplies has sold Imer's user-friendly Minuteman II Mixer. When it hit the market, this unit was…and still is…instrumental in both design and practicality. Easy for just one person to knock down and transport, the Minuteman utilizes a sealed gearbox to drive the drum, while the exclusive mixing paddles allow the mixer to be used not only for concrete, but also for mortar.
Sealed direct drive gear box means no exposed gears and no belts to adjust.
Knock down design allows dis-assembly or re-assembly in less than 1 minute.
Compact enough to fit into trunks or hatchbacks of most cars.
Large 12″ wheels ease transport of the Minuteman around job sites and in and out of work areas.
All metal components are finished using high quality paint.
Can be used to mix a multitude of products.
Extremely low maintenance machine.
Motor HP/Amps/Volts/RPM:            ½HP, 6.2 Amp, 110/115 volt, 3350 RPM, single phase, 60 Hz
Noise Level:                                        65 dB
Drum Capacity:                                  5 cubic feet
Batch Output:                                     2½ cubic feet or approximately 275 lbs. (125 Kg.)
Drum Diameter:                                 24″ (61cm)
Discharge Outlet Height:                 21″ (53½cm)
Wheels:                                               10″ (25½cm)
Dimensions:                                       28″ (71cm) wide, 52″ (132cm) long, 57″ (145cm) high  
Shipping Dimensions:                      26½" (67cm) long x 26″ (66cm) wide x 27¼" (69cm) high
Weight:                                                120 lbs. (54½Kg)
Shipping Weight:                               130 lbs. (59Kg.)