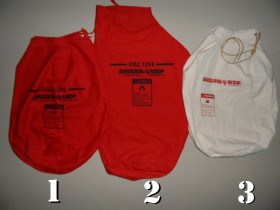 Deltaquip offers a full range of factory and generic professional bags, for Clarke American, Hummel, SilverLine and others…8 and 12″ drum or belt style sanders. Click the 'Bag Selector' tab below, where you'll find most large sander bags used within the professional floor sanding trade or tell us what machine you have and we'll supply you with the proper bag.
Easy breathing reusable cloth for better dust control
Designed for heavy duty applications
Tie on style
To maximize your sander's dust collecting capabilities, always empty cloth bags when they're approximately ½ full.  This will allow for greater  air flow which will in turn, provide optimal dust control.
Always empty the edger bag after finishing the job. Material left in the bag may spontaneously ignite and result in a fire. 
Periodically invert, shake and beat empty bags to aid in keeping the pores in their breathable state.
Drum Sander Make/Model                       Material                      Style                  Capacity (cu.ft.)            Part Number
Clarke American 8                                         Cloth                     3 (Tie-on)                          4                               DELPB         Clarke American 12/ Classic 12                 Cloth                             2                                  5                               DELH         Clarke American Floor Crafter                     Cloth                             1                                  4                             DELFC8          Clarke American Apollo 8/Classic 8           Cloth                             1                                  4                              DELPB             Silverline Pro 8 drum sander                       Cloth                             3                                  4                              DELPB  
Oscillating Sander Make/Model
Clarke EZ Sand                                               Cloth      Push fit w/collar (not shown)         2                           53673A           
Weight:      Average is about 1 lb. (½Kg) and can be mailed