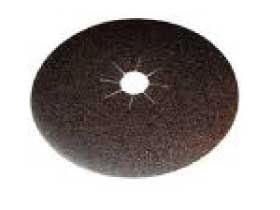 Discs for rotary sanders.
Size:
15 and 16" diameter with either 2 or 4" centre hole.
Types available:
Aluminum oxide cloth backed (longest lasting); SIA brand, limited supply

Silicon carbide paper backed; Norton and Virginia Abrasives brands

Grits Available:
12, 16, 20, 24, 30, 36, 40, 50, 60, 80, 100 and 120
Used On:
15, 16 & 17" rotary machines with 15 or 16" sanding disc attachment
Which disc is right for me?
After having sold sandpaper since 1973, we have concluded that in more ways than one, choosing the right sandpaper disc is influenced by the type of surface being sanded.
There are two external factors that determine a disc's lifespan. The first is disc wear. Some floor finishes contain abrasive-resistant materials for a longer lasting product, which when sanded, tend to shorten the lifespan or prematurely wear out discs. On the other hand, sanding bare wood such as fir or oak results in less wear. The other factor is material  build-up, such as finishes, oils, paints or waxes. The heat created by sanding these materials often causes them to soften and 'cake' onto the disc, covering its abrasive surface, thus diminishing its life. For these reasons, one may prefer to use lower grade discs for the initial passes, since the disc may possibly have to be discarded due to material build-up rather than wear.
With two grades of disc to choose from, workers can either use professional grade products or a more economically priced alternative if sanding smaller areas.