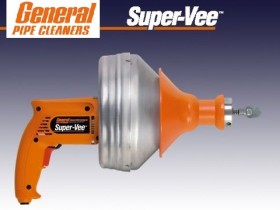 Easy to use, powered cleaner for easier handling.

Deltaquip Supplies Ltd. has supplied the General Wire line since 1988. Its versatility makes it the most popular drain cleaning line in the industry.
Drum can be changed in moments, to accommodate a variety of cable lengths and diameters
Slide action clutch lets the operator clear a clogged drain quickly and safely
Grip shield allows unit to spin at various speeds while operator maintains complete control
Includes cutter set; Arrow head, 1¼" side cuter blade, flexible arrow head, boring gimlet and down head boring gimlet (others available).
Motor:                                         115 volt CSA approved. All ball bearing, double insulated,                                                                                          reversible with variable speed control (0-500rpm)
                                                      For manual model, see X Handy Series trapsnakes
Drum Capacity:                          50′ of 5/16″ or 35′ of 3/8″ Flexcore cable
Cable Cartridge:                        Light weight, impact resistant plastic case
Dimensions:                               Unit – 17½ x 9″ (44½ x 23cm); Case(LxWxH) – 19½ x 9 x 9½ (50 x 23 x 24cm)
Shipping Dimensions:              20 x 10 x 10″ (51 x 25½ x 25½cm)
Weight:                                         From 15 to 23 lbs. (7 to 10½Kg), depending on cable being used
Shipping Weight W/Case:        From 24 to 38 lbs. (11 to 17Kg), depending on package purchased