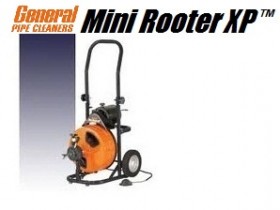 The optional wheels and a folding handle give the Mini Rooter extra portability.
8″ Semi-pneumatic wheels allow the unit to stay on the ground.
Handle folds down and can be used as an additional lifting point.
Power cable feed makes feeding and retrieving cables easier.
Cage can be removed in seconds for easier transport.
Safety slip clutch protects operator and cable.
Foot Pedal uses air pressure, so there's no electrical contact between pedal and motor.
Includes cutter set; Arrow head, 1½ U cutter, 2" side cutters and boring gimlet (others available).
Closed drum available for a neater appearance.
Open drum allows easy cable inspection and cleaning.
Deltaquip Supplies Ltd. has supplied the popular Mini Rooter since 1988. Its size and versatility make it a favourite among Rental operators.
Motor hp/volts:         1/3HP/115 volt spring loaded mount, CSA approved. For manual model, see Spin Drive
Power Cord:             10′ 3 wire, equipped with ground fault circuit interrupter
Drum Capacity:         75′ of 3/8″ or ½" Flexcore cable, open or closed drum option
Weight:                       67 lbs. (30½Kg) with power feed and no cable
Shipping Weight:      77 lbs. (35Kg) with power feed and without cable