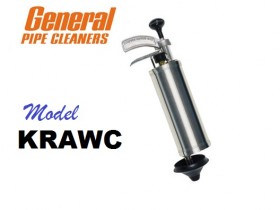 The simplest way to unclog a drain.
Flexible cone seals drains ranging from 1¼" (32mm) to 4"(102mm) in diameter
Standard fittings include caulking hose, 4" tapered rubber cone and five tapered rubber plugs,

shown here

.
Optional accessories include toilet attachment, 6" tapered rubber cone, 1½", 2", 3" and 4" rubber expansion plugs, universal faucet adapter, water supply hose and check valve.
Body:                                  16 guage plated cylinder tested to 600 lbs pressure
Pressure Capacity:         Normal use rated for 100 lbs, provides pinpoint pressure control
Pumping System:            Built-in air compressor easily reaches desired pressure
Cone Sizes:                       5 rubber plugs allow user to adapt to most any drain
Weight:                               20 lbs. (9.1Kg)
Shipping Weight:              25 lbs. (11.4Kg)