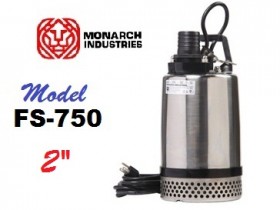 Robust pump with high head limit and big volume for drainage and irrigation.
Submersible pump with fully sealed motor and stainless steel housing, designed for continuous drainage and irrigation use.
Used primarily for clean or dirty water but not sewage or effluents.
Barbed hose fitting.
Can add a

float switch

for automatic operation.
The Monarch FS-750 pump is a durable, high quality dewatering pump with high output.
Model Number (Catalogue #):        FS-750 (620241)
Capacity (Imp. GPH / l/hr):               4000@4' head (18,200 l@1.23m); 400@50′ (1820@15.4m)
Discharge:                                          2" Hose barb (51mm)
Shut-Off (max pump height):         52 ft (16m)
RPM:                                                     3,450
Motor:                                                  1HP, 115V, 10 Amp, Split Capacitor, Thermal Overload Protected, CSA approved
Cord Length:                                      20′ (6m)
Warranty:                                            1 year from Deltaquip's invoice date
Dimensions (Diameter x H):            7¼  x 14″ (18.4 x 35½cm)
Shipping Dimensions:                       9 x 8¼ x 17¼" (23 x 21 x 44cm)
Weight:                                                 35 lbs (16Kg)
Shipping Weight:                               37 lbs (17Kg)